Intro + Supplies + Sketch
Welcome and thank you so much for joining our Fast & Fearless Flowers June & July class.
I will be painting the July Lone Star Living Bouquet -with yellow lilies and red roses. This month my class this month will be longer than one hour because I just had to add a few of my favorite treasures to the still life!
Annie will be painting sunflowers in her Fast & Fearless one hour class. Sunflowers are perfect for Summer and the month of June.
The BASIC SUPPLIES LIST below includes the Golden's Modern Theory Heavy Body Acrylic Paint Set and Silver Brush Limited Brushes.
These high-quality, professional art materials are recommended for the best painting experience, as well as a better end result in your art for all the Fast & Fearless Flowers courses.
The Bristlon Brush Series brushes from Silver Brush Limited are used in all my online acrylic painting classes.
I always highly recommend them because they have the perfect stiffness for acrylic painting. (see chart below)
Once you try them you will quickly see the difference in paint application between Bristlon brushes and craft store brushes.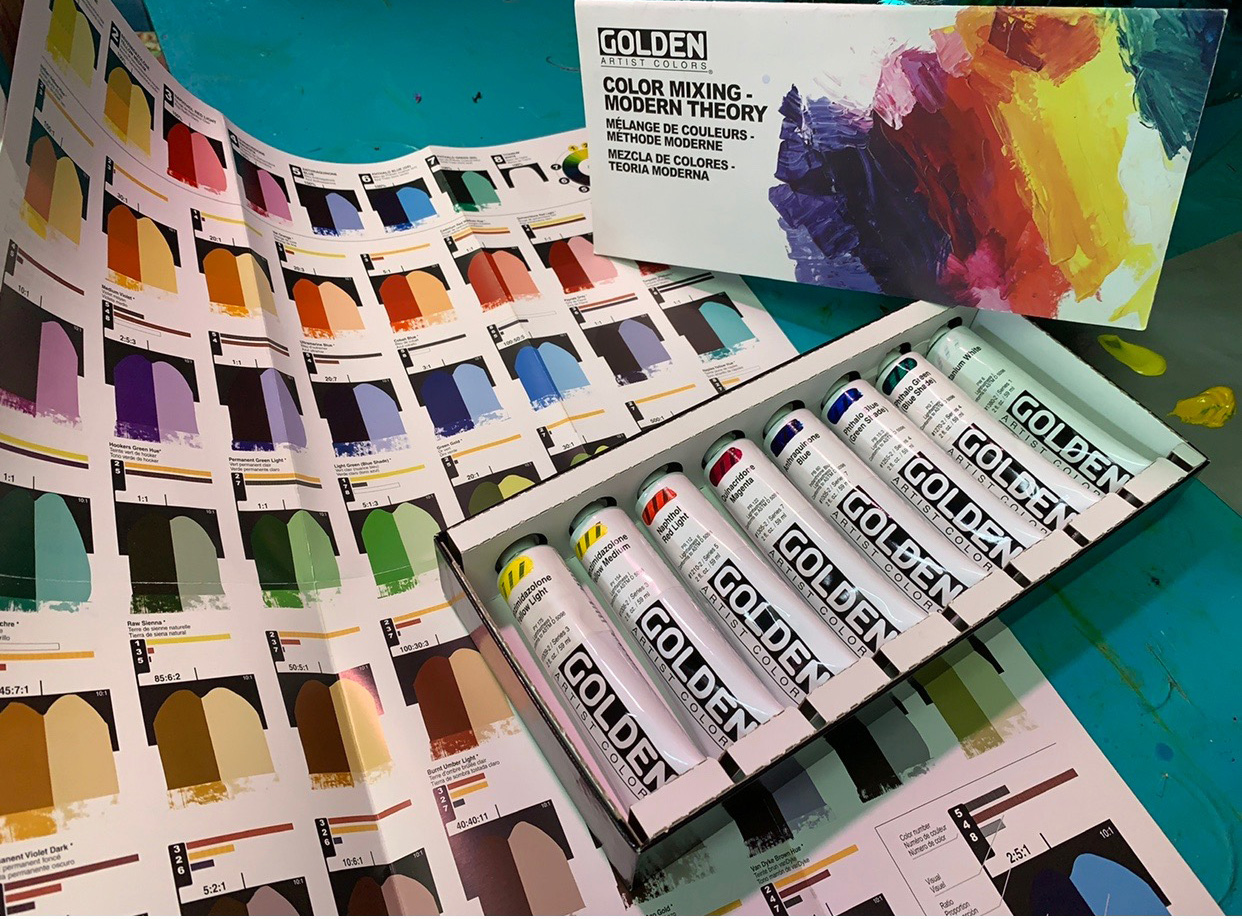 Video: Introduction to Golden's Modern Theory Paint Set and Mixing paint .mov
Download
Here is a short color mixing video from a while back and a little additional information on the Golden Modern Theory paint set. Feeling confident on mixing color is one of the painting basics. It takes practice and the 'practice exercise' mentioned is worthwhile to speed up the learning process.
This poster or guide on color mixing is free in Golden's Modern Theory Heavy Body Paint Set. It is an invaluable tool for learning to make the colors you desire; see image below.
JFYI: We offer a free introductory course on Acrylic Painting Basics on letspaintflowers.com. You may want to check it out as their is a Color Mixing video with practice exercises on how to make your colors, using the free poster, while painting.
Time to sketch.
I like using a black canvas quite often because it's easy for you to see the painting process
having a black canvas guarantees some dark values once the painting is complete
ordinary white chalk is used to sketch because it easily erases with a damp cotton cloth, if you want to make a correction.
Once your painting is completely dry - overnight- wipe the chalk off completely for the reveal of your dark values.
Complete and Continue