Intro + Reference Photos + Supplies + Prep
Creating a still life set-up is easy: once you have picked a favorite vase, fill with water and stir in flower food, trim and add your flowers in a please manner as I showed in the video. Next, sit your bouquet in an area with good lighting, tun it to your favorite angle and your ready. You could also add favorite items, such as a nick-knack or two, such as a coffee cup or a few books to your still life. For inspiration, you can go onto Pintrest and look up 'floral still life set up' ideas.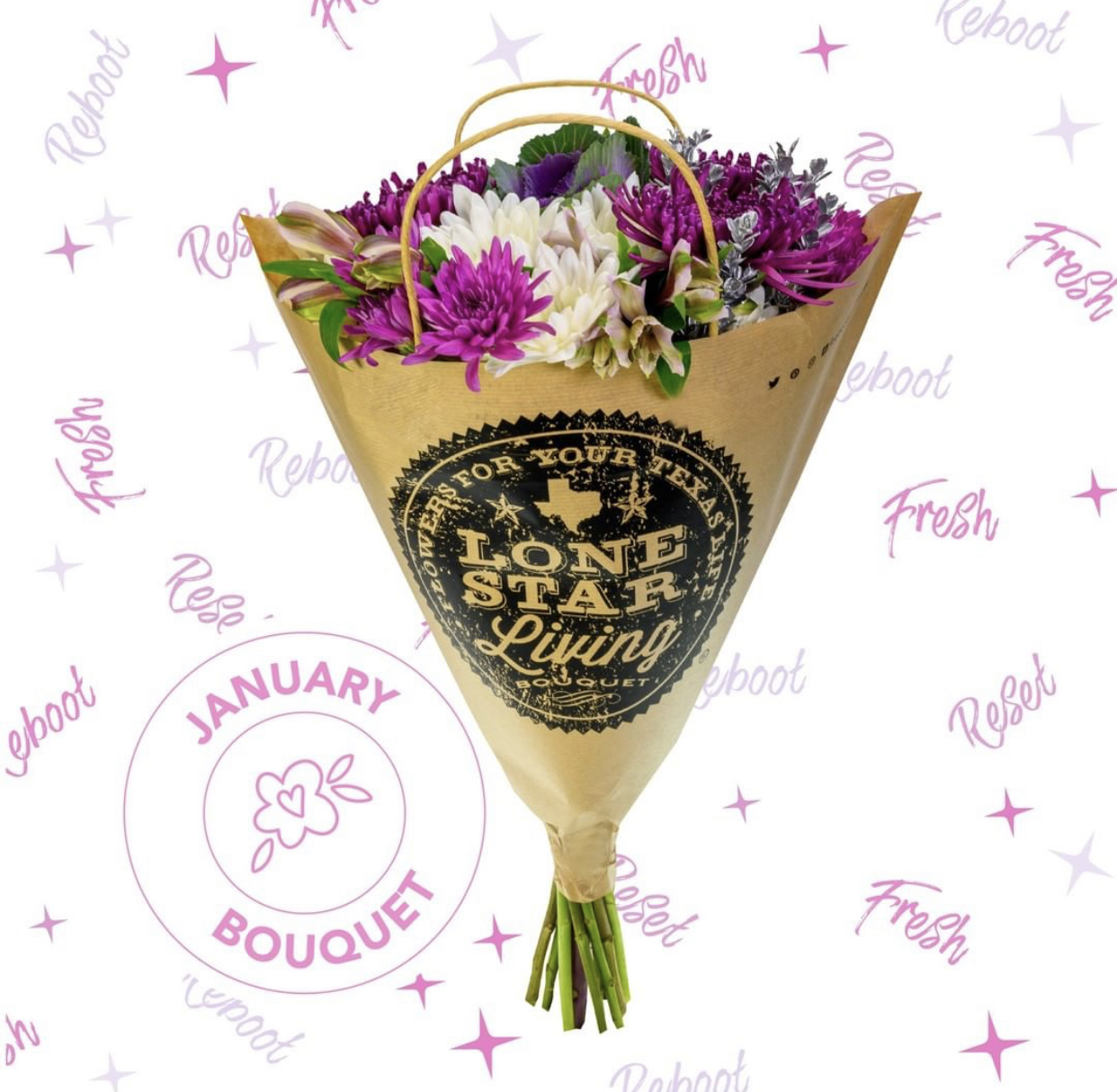 PRINT TO USE AS A REFERENCE.pdf
OPTIONS FOR THE BOUQUET IN YOUR STILL LIFE SET UP:
If you live in Texas, my still life is the Lone Star Living Bouquet for January-it is sold every January at all HEB Grocery stores in Texas.
You can also use my reference photo or photos from Lone Star Living Bouquet's social media -for the month of January.
You are welcome to choose similar or favorite flowers and paint along with me.
Floral Photo References can be found on the following Social Media links:
Lone Start Living Bouquet:
FACEBOOK: https://www.facebook.com/lonestarlivingB/
INSTAGRAM: @lonestarlivingb
Jill Haglund:
FACEBOOK: https://www.facebook.com/jill.haglund.3
INSTAGRAM:@tweetyjill
WEBSITE: https://www.jillhaglund.com/
GOLDEN ARTIST EDUCATOR: https://goldenpaints.com/gaep/Jill.Haglund/1806
SILVER BRUSH EDUCATOR: https://www.silverbrush.com/jill-haglund.htm
Annie O'Brien Gonzales:
FACEBOOK: https://www.facebook.com/annie.gonzales.52/
INSTAGRAM: @annieobriengonzales
WEBSITE: www.annieobriengonzales.com
GOLDEN ARTIST EDUCATOR: https://education.goldenpaints.com/gaep/Annie.OBrien%20Gonzales/1813
SILVER BRUSH EDUCATOR: https://www.silverbrush.com/ann-obrien-gonzales.html
Welcome to our Fast & Fearless Flowers classes which will be approximately one-hour in length. We hope you enjoy the concept of minimum time, minimal supplies and maximum fun!
As you will see in the video in this section, we recommend Golden's Modern Theory Heavy Body Acrylic Paint Set and Silver Brush Limited Brushes.
This particular paint set has the eight paint colors we will be using in our short -length classes; I usually add Carbon Black Fluid Acrylic and Teal.
In January's class, I used a Size 10 Bright, Size 4 Bright, Size 3 Filbert, Size 0 Round from Silver Brush Limited's Bristlon Series and their white synthetic, red-handled 1/2" Angle Art Sherpa.
The two special tools are a Texture Tool by 'Gelli-Plate' and an Embossing Tool I picked up at the craft store to make the small 'detail dots' of paint on the canvas during the final steps of the painting.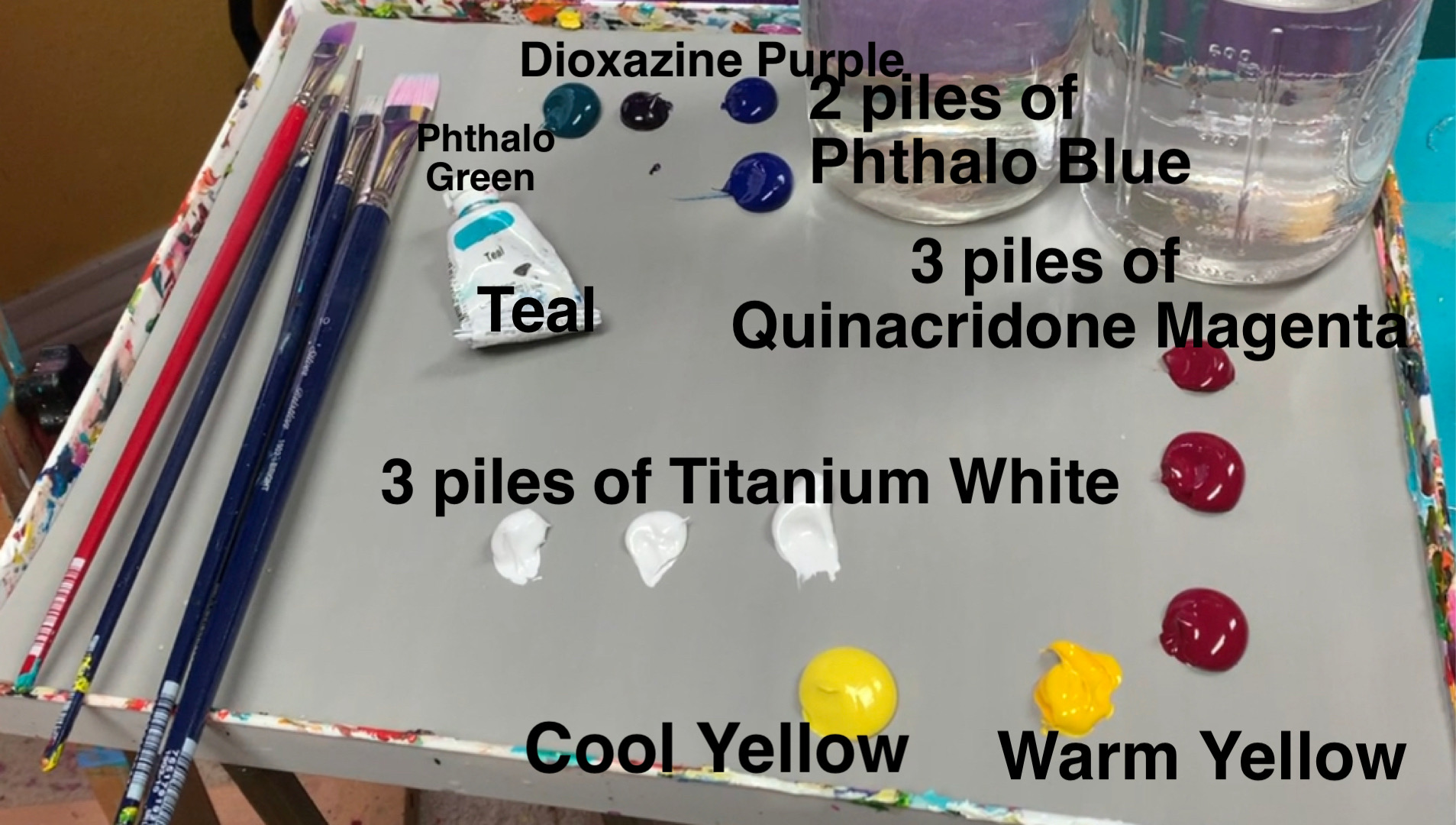 These are the Golden Acrylic paint colors we will be using for the Lone Star Living January Fast Class.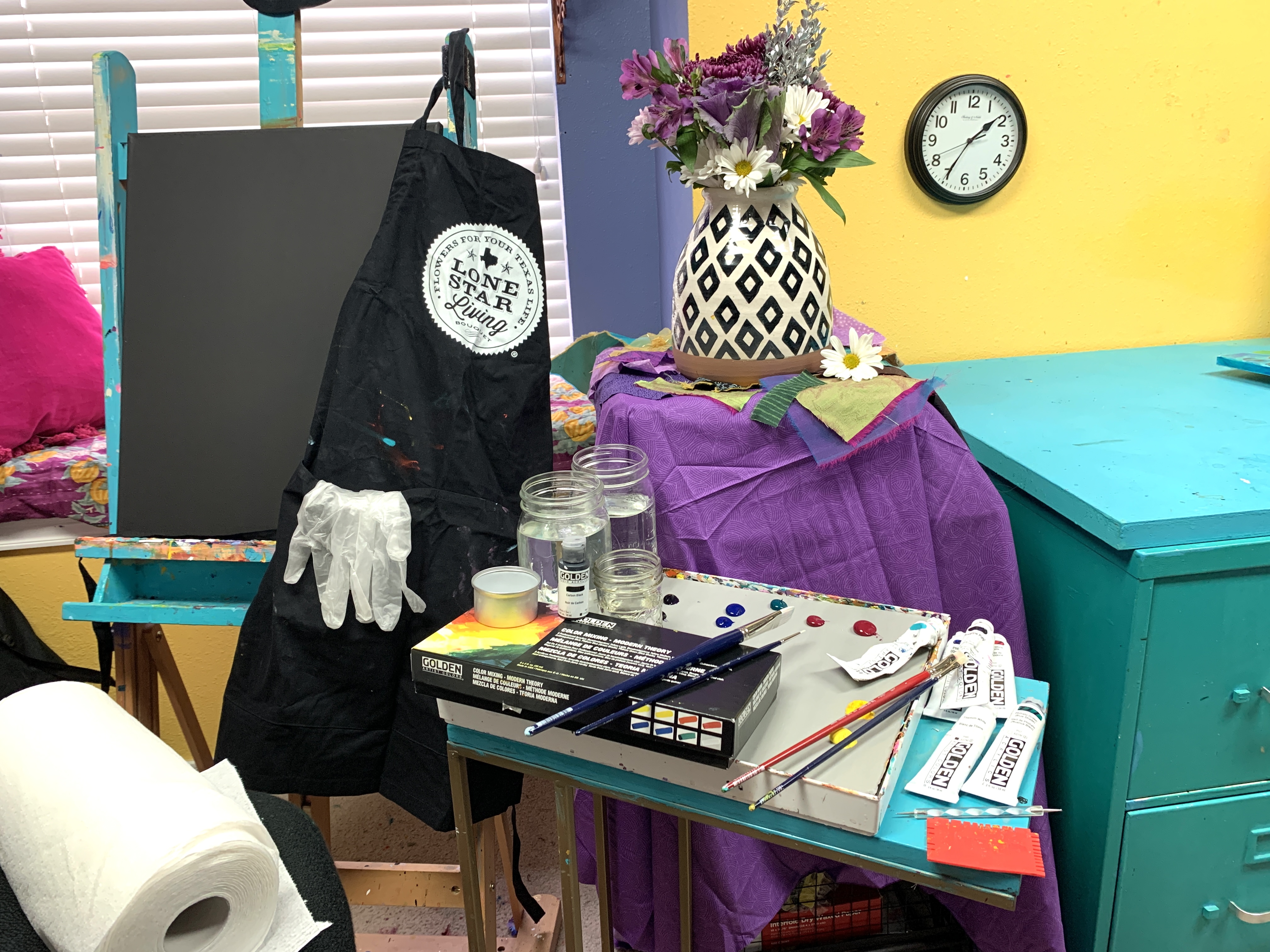 This is my Studio set up: the January Lone Star Living Bouquet still life, Paints, Brushes, 16' x 20" Black Canvas, easel, comfortable chair, water jars, small tin for Matte Medium, apron, paper towels, gloves (optional) specialty tools-the Embossing Tools and the Gelli Plate Texture Tool, all can be purchased online.
The Golden Paint Set, Carbon Black Acrylic Paint and Fluid Matt Medium- all by Golden Paint Colors.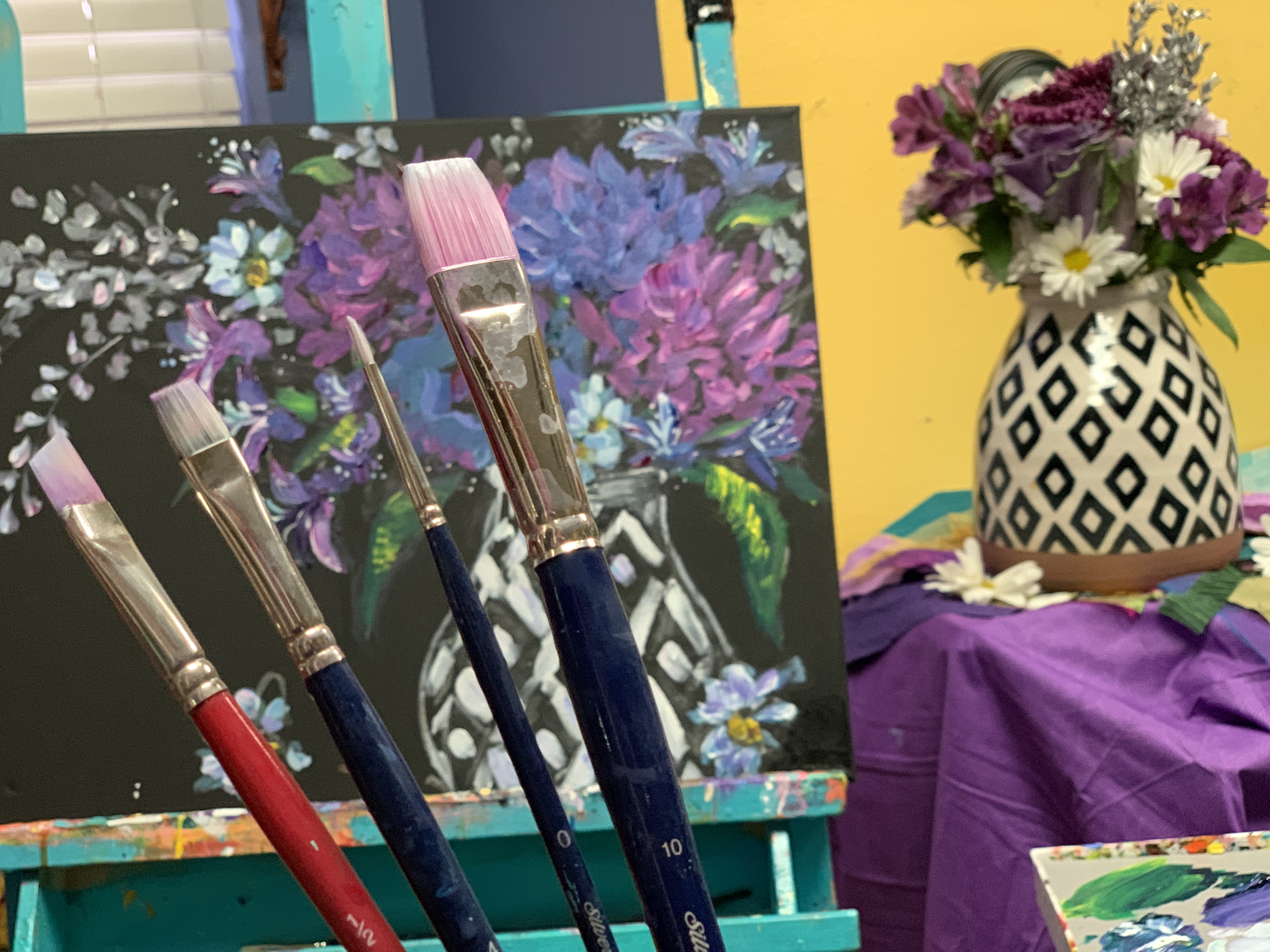 A close-up of the Bristlon (blue handles) and Art Sherpa (red handles) brushes by Silver Brush Limited we will be using in this class; all of which can be purchased online at JerrysArtArama.com or Amazon.com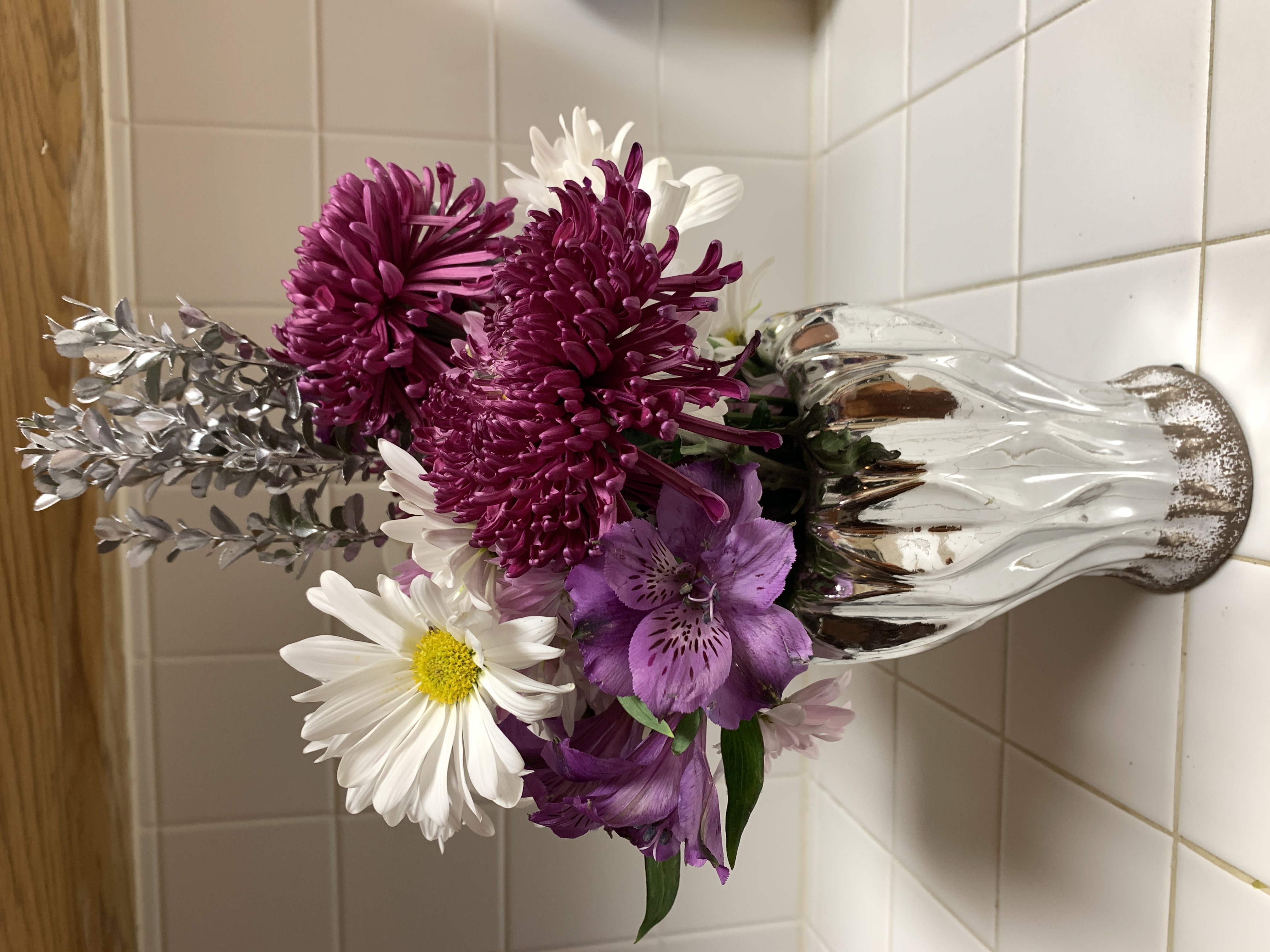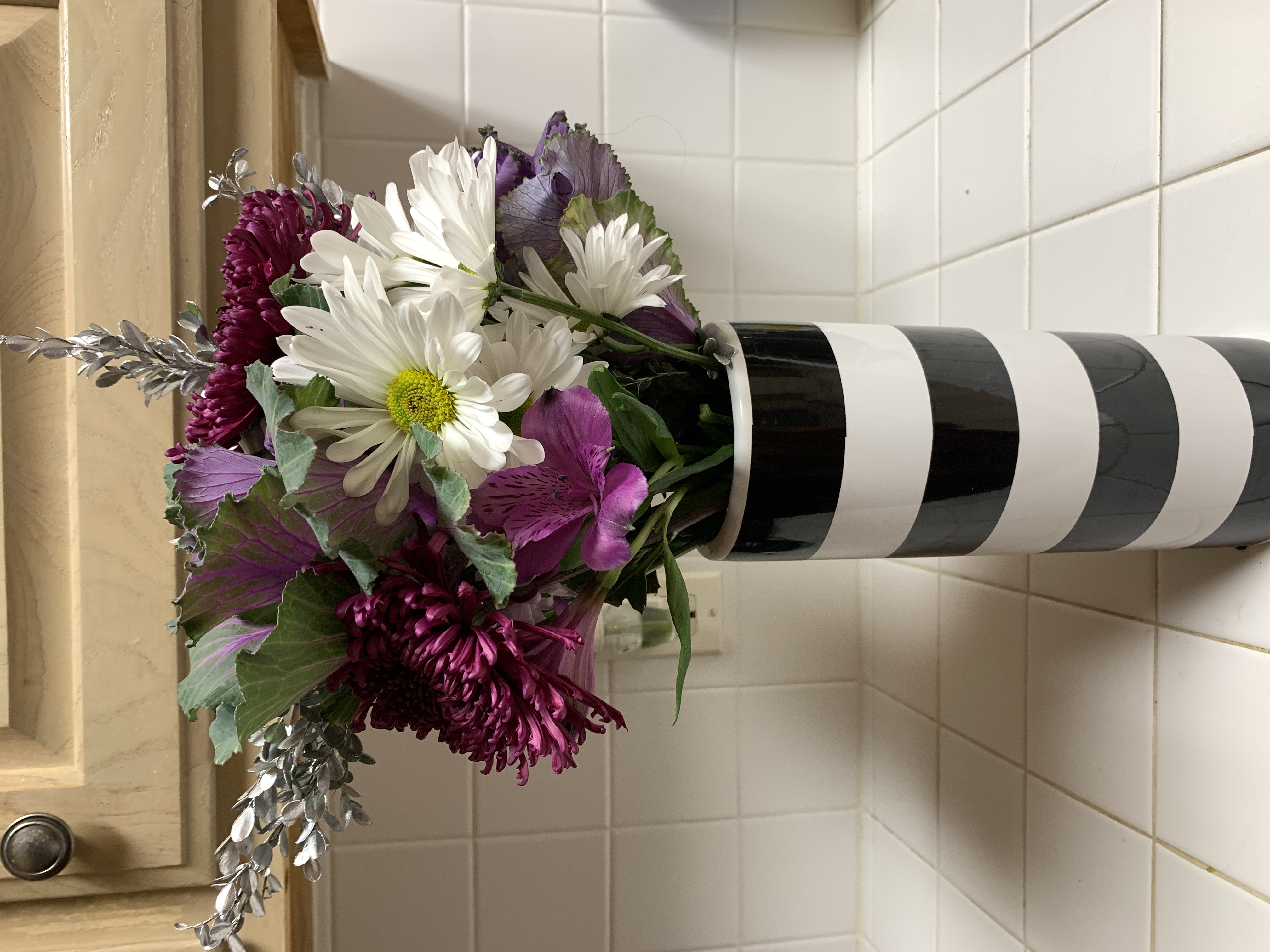 Complete and Continue